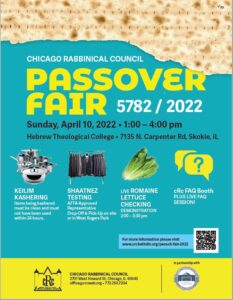 The cRc proudly invites you to this year's annual Pesach Fair:
NOW STARTING AT 1:30PM DUE TO LEVAYA.
Sunday April 10th, 2022 from 1.30pm- 4pm at the Hebrew Theological College in Skokie
Services: Keilim Kashering, Shatnez Testing, Romaine Lettuce checking demonstrations, cRc FAQ Booth.
Please note that for Kashering we can only service items that:
Have not been used with anything hot for at least 24 Hours prior

Are made of metal and/or plastic

Do not have intricate designs, deep etching or mesh.

Are thoroughly clean. Tarnish is not a problem.

Are used for cooking but not for baking or for frying.
We will have Rabbis available at the Pesach Fair to address any questions you may have.